Monochrome Circus /Kyoto
"DEMAE" performance series "SHUKAKUSAI (Harvest Festival)"
While we were staying in the residence of Gropiusstadt, we did improvization training in the room. And it was effective to develop our series of works of improvisation named "DEMAE" performance series "SHUKAKUSAI (Harvest Festival)"
"DEMAE" means "Delivery" in Japanese.
As many restaurants offer "Delivery Food" to your home, our company will offer "DEMAE (Delivery) Performance" to customer's place. We have started this project in '96, offering the performance more than 250 times. It was performed in many countries including France, Germany, Lithuania, Thailand, Korea, as well as in various different places, such as someone's home, kindergarten, art exhibition, park, school for disabled people.
"DEMAE Performance" includes many small pieces of dance and music; its selection covers old songs and folkloric songs to contemporary music and Japanese Pop, using the material of poem readings, and many improvisation with the inviter (host). We don't focus to perform completely same things each time and space. We prefer doing something more, something we can encounter in that space, in that time, with that people. We bring some of our repertories to that places, but the content will be changing flexibly along to the place, people and time.
While we were staying in Gropiusstadt, we did two performances: One took place in the gallery named "Murata and Friends", and the other in the park and supermarket in Gropiusstadt. One caused encounter between Japanese artists and German artists and audiences. And the other performance brought art into the scene of ordinary life in Gropiusstadt.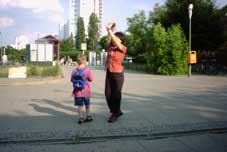 Ý