Edgar Orlaineta/Mexico City
Making the private public – Making friends.
Whilst walking through the Gropiusstadt I found a group of little uni-familiar homes (Einfamilienhäuser), they were very beautiful in size and proportion and they were delicate in some way. I found them very contrasting to the big buildings around. I thought it was strange to have them here besides the big building with hundreds of apartments.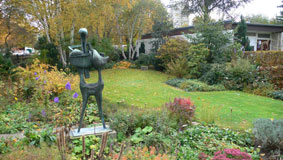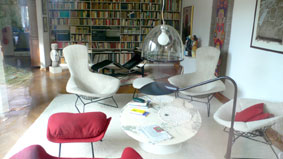 One of these houses had its garage door open and there I saw a familiar image; a group of "butterfly" chair frames the kind I have found in México City streets and used to create a pair of sculptures. I was very impressed to see them there, originally an Argentinean design from the 30's (1938 by Jorge Ferrari-Hardoy), I thought the people living there must know something about their history.
I came closer to the house and found nobody, after doing this I went around to look through the back yard. The back yard was also beautiful, and there I saw an old lady. She looked at me and I wave my hand at her saying hello. I went to the front door, knocked the door and started a conversation telling her how much I liked her house. I asked her if I could come in, she was hesitant but she let me in, I took photos of the garden and the ultra-modern decoration of the living room, she told me stories about the furniture. She got it 40 years ago (1966-1967) when she and her husband moved to the Gropiusstadt. When they bought them after seeing them in a store, she and her husband were told "this is the furniture of the year 2000", I guess the people at the furniture store were right saying this after all. Then she told me the story of her garden sculptures. One of them was missing; somebody stole it, leaving the base where it used to be. She told me it was very strange because nobody had sculptures at the Gropiusstadt. At the time she tried to find the sculpture by asking and offering rescue, but the sculpture never appeared.
The project I want to develop for the future is to create a sculpture to replace the missing one, and give it to this woman as a gift and replacement for the lost one.